---
Co-Presidents' Message
by Linda Freeman
Hopefully we are all surviving the up-and-down heat waves - Frank Brines has great summer rose care tips in current and past newsletters. Rose Haven has been abuzz with activity from mulch to pathways and a renovation of the Tree of Life garden area a very grand renovation of the pond ! Many thanks to our members who contributed to these very large projects and "Thank you" to members who used their recreation time during our "Stay at Home" periods to come to the garden and weed and replace water valves.
Our August Friends tea meeting at the library is postponed as the Library Community room is still closed. We are going to do a Member Meeting via Zoom on Thursday August 20 at 10 AM so mark your calendars! An invitation to join the meeting will be sent out to all current members in early August with details.
I am sure many of you have taken classes or visited with friends on the Internet, and if you have any ideas for our Society to provide you with programs or updates, please let us know via Email (temroses@gmail.com), and which platforms were the easiest and best for your use: ZOOM, YouTube, Webinar or Facebook Live?
Rosey Sharings will continue, and a BIG "Thank You" to all of the members who send in pictures and information about their personal gardens as well as Rose Haven.
AUGUST MEETING , Thursday, August 20, 2020 10 AM
Topic - Rose Haven Heritage Garden updates - Summer 2020
This will be a virtual meeting and invitations will be sent early August to all members with meeting details and how to join online.
We will be doing a ZOOM meeting.
by Brenda Bjahanbani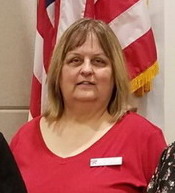 It's been such a long time since we have all been together. I really miss everyone. I miss our monthly meetings, the friendly socializing, the interesting speakers and our monthly luncheons. These times are challenging, but they are temporary and it will be so exciting when we can meet again. The most important thing for us to do right now is take care of ourselves and each other.
There is still a lot of activity going on in our society. Some of our committees continue to meet via conference call. The Rose Haven committee meets regularly to plan new renovations for the garden. The Fundraising committee meets frequently to plan fundraising activities. You will be hearing a lot about these in the coming weeks. The Board members still meet every month. We are forming a new committee that will focus on social media. Please let us know if you are interested in becoming involved in any of these committees.
I hope everyone will join us for our first ever Zoom meeting in August. If you have any questions you would like the Board to answer at our Zoom meeting you can email me. My email address is in our Roster, or you can send and email to me here (temroses@gmail.com).