---
Jump to Frank Brines' Rose Care FUNdamentals
Jump to Calendar of Events
♦ There is no feature article from the ARS this month. To access any of the previous articles Jump here.


---
Bill Scheufler 1928—2008
Read tributes here.
---
Co-President's Message
By Frank Brines
"The times they are a changin'." -Bob Dylan

The flagging economy has hit everyone hard, from individuals to municipalities. We don't know yet how the Temecula Valley Rose Society will be affected, but we can expect some drop in revenue from individuals, grants, and underwriting. We can also expect some of our traditional events to look and feel a bit different.

All this makes volunteers more valuable than ever! Can you donate a little time, effort, and creativity to help take up some of the slack? We're ready for you: We have excellent committees in place with dedicated volunteers, and they're ready to welcome you. It's not really hard and November is a great time to get involved!

Committees meet after the general membership meeting, so you're going to be there already anyway! Come sit in on a committee, help come up with ways that we can make and reach our goals. With the new year, there'll even be some committees that need new chair persons. Come steal someone's hat and share the chance to take the Society into the future! We always need new ideas and you may be just the person to provide a few of those!
---
Co-President's Message
By Kathy Katz
 Hello All. At our October meeting many of us enjoyed learning about irises from Leon Vogel. He and his wife Norma have worked for irises like we have worked for roses, tirelessly and for years. The use of irises as companion plants to roses is well known and we hope to demonstrate this at Rose Haven.

To honor the Vogel's work, and with the support of The Temecula Valley Garden Club, we intend to create a demonstration Iris Garden at Rose Haven. Intermixed with the roses, in a special bed and with a special marker, will be the Norma and Leon Vogel Demonstration Iris Garden. With the combined work of the two clubs we hope to continue to remind and educate everyone who will listen that, while not everything will grow well in the Temecula Valley, some things grow superbly here. Irises and roses forever. Sincerely, Kathy.
---
Rose Societies Around the World
Interested in seeing what other rose enthusiasts are doing around the world? Go to Rose Magazine's Rose Societies page and follow the links.
---
New Members
By Bonnie Bell, Membership Chair
A warm welcome to Edie O'Hair. We are glad to have you with us again.
---
Community Outreach
By Simonne Arnould
BLOOMING ANGELS NEWS
 Hurrah!! We made it. The time has come to put our buckets, vases, and clippers for a rest until next Spring, 2009. I think my crew did a beautiful job in supplying bouquets of roses to the several organizations in Temecula and Murrieta.

A big "thank you" to Ann Coakes, May Olson, Peggy Whitney, and Terry Hawkins who diligently helped me this year in this wonderful mission of spreading the joy of roses to our community. Au revoir, Simonne.
---
Rose Haven Update
By Bonnie Bell
 Walking the garden in late October, one cannot help notice how alluring the Succulent and Southwest gardens appear. The blue and bright green colors of the succulents stand out against the flowing yellows of the many ornamental grasses with spots of red sages and roses. And check out the beautiful pink "Carefree Beauty" roses in the Roses and Companion Plants garden.

At our October Development Meeting we reviewed the items on our "Wish List." We measured select areas, and discussed requesting bids for the items we wanted. If you would like to view the "Wish" items, as well as view their photos, please visit our website here. The "Wish List" is at the bottom of the page. Phyllis has already secured a commitment from Tom Carruth at Weeks Roses for a donation of 50 "Topsy Turvy" bare root roses which we will plant along Cabrillo Avenue as a living fence.

All members are invited to participate in the monthly garden meeting, held the 4th Wednesday of each month at 9:00 a.m. Our next meeting is November 26th. The address is 30592 Jedediah Smith Road, Temecula.

Wednesday and Saturday mornings are still volunteer days, so if you have some extra time come out and join us.
Roses & Companions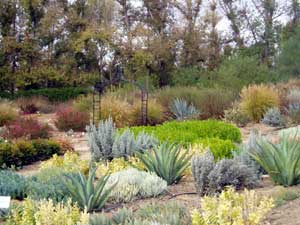 Succulents & Southwest Gardens
---
Member Meeting Program
Date: Thursday, November 20
Time: 10:15 a.m. to 1:00 p.m.
Place: Temecula Library (30600 Pauba Road)
Topic: Herbs for the Holidays


The Rose Society is pleased to announce that Virginia Murphy will be our guest speaker this month. Also known as the Herb Lady, she and her husband Ron own Ama's Herboretum, a natural herb farm in the wine country in Temecula. They grow and host tours of their herb display gardens. As a native Californian, gardening had always been a fun family project, then herbs became her primary focus and inspiration, due to the usefulness these plants provide.

Virginia has studied herbs for years through her active membership in the Herb Society of America and hosted one of the HSA West District Conferences at her herb farm. She continues to write Herb articles for various publications and shares her enthusiasm and herb knowledge by conducting workshops and inspiring youngsters and the seasoned gardeners to grow more herbs and use them daily.

In keeping with the holiday flare, her presentation "Enchantment of Herbs for the Holidays" will be filled with a variety of herbal creations, scents and ideas using herbs to celebrate, decorate and savor the holiday season. Learn about some of the winter herbs to plant in your garden. Start a new tradition using the harvest of your garden, create sensational recipes for your holiday table, decorate your home with a wreath, or craft an herbal gift for your family and friends.

Please mark your calendars and join us for an aromatic and enchanting holiday herb program. Bring your friends to this informative and fun meeting.

A light buffet luncheon will be served around noon. Guests are welcome.



---
Birthdays This Month
by Florence Blacharski – Sunshine Committee
| | |
| --- | --- |
| Jacques Arnould, Phyllis Bettelheim, Wayne Blizzard, Jane Brodbeck, Jeffery Dixon, Margaret Granlund, Ellen Hazinski | Beth Jensen, Denise Luber, Serita Moore, Edie O'Hair, Marta Pilling, Kathy Turgeon, and Warren Wendt. |
---
In Memoriam: Margaret (Maggie) Fultz
 A TVRS member from November 1991 to 2000, passed away on 10/21/08 after a four-year battle with ovarian cancer.

Maggie and her sister Maxine Bonner served as hostesses for our buffet luncheons. She reworked our unsold sweat shirts to make them into beautiful jackets, trimming them with lace and satin roses.

As well as her special roses, she loved her children, grandchildren and family members, her Siamese cat Reba, country-western music (including the singer Toby Keith), line-dancing, and all her many friends at The Stampede.

As her health faded and she was no longer able to care for her garden, so Roy and I did the pruning of her roses. She served lunch for us: delicious tomato soup, and toasted cheese sandwiches made by Maxine. I'll always think of her when those items are on my menu.

Farewell, Maggie. It's been good to know you! Virginia Boos
---
Little Rose Show Competition
Co-Chairs: Frank Brines and Rebecca Weersing

At the monthly meetings from April through November 2008 we will conduct six Little Rose Shows. These will be fun opportunities to learn and polish your skills in exhibiting roses. Each month, you will receive points for any specimen that is awarded first, second, or third place. In addition, you will receive a prize if your rose is judged Rose of the Day. And at the Holiday Meeting, a grand prize will be awarded to the exhibitor who accumulated the highest number of points during all the preceding Little Rose Shows.

Rose shows are organized into "classes." We will be using these six classes:
Class 1: One hybrid tea or grandiflora shown without side buds.
Class 2: One floribunda without side buds.
Class 3: One miniature without side buds.
Class 4: One floribunda spray.
Class 5: One miniature spray.
Class 6: One stem of any other type or unknown.


Points will be given to the best rose in each class, based on ARS guidelines:
First Place: 5 points.
Second Place: 3 points.
Third Place: 1 point.
The first place winners in each section will be judged against each other to determine the Rose of the Day. That entry will be awarded an additional 3 points and displayed separately.

Here are the rules that we will follow:
All roses must be properly named and entered in the appropriate section. (Don't worry, Rebecca and Frank will do their best to help you identify your nameless varieties!)
Exhibitors must supply their own containers. (You already have these. 12 oz beverage bottles are ideal for large roses; 4-6oz beverage containers work well for miniature roses.)
Each exhibitor is limited to six entries per show. You may concentrate your entries in one section or distribute them over all the sections.
The club will supply entry tags; only the top section needs to be filled out. (We'll show you how.)
Your specimens will be judged based on the ARS guidelines. (This is a great opportunity to learn by doing!)
Exhibitors are asked to remove all specimens at the end of the meeting.
---
An Exciting New Rose
by Xochitl Rumbold

I recently read an article in Traditional Home magazine regarding a new Floribunda rose bred by Tom Carruth and Christian Bedard of Weeks Roses. It has buds that are a buttery-rich copper tint, turning as they open to rusty orange tinged with caramel. The dense double blooms have a delicate, fruity, perfume. The bush is medium height (3-4 feet tall) and softly rounded with dark green foliage. According to the article, this rose is a stunner in a rose border, or mixed with perennials.

Every year Traditional Home honors inspiring women who change others' lives, and the magazine has a new CLASSIC WOMAN ROSE dedicated to these special women. This years CLASSIC WOMAN ROSE is available for $23.95 each, plus shipping. Plants will be shipped bare-root at the proper time for planting in your zone beginning in early spring next year. Quantities are limited so order early. If interested, call 800 420-2852 and specify item #M066656, Code THF81, or jump here to order or see a photo.

Hopefully, someone in the Rose Society may personally know Tom Carruth and can ask him if there is any way that we can order this rose directly from Weeks Roses for Rose Haven or for members.
---
A Great Cake Recipe
from Jeannine Ali
 Jeannine says, "at our October meeting I was more or less mobbed over sharing a cake recipe, so here it is." Enjoy.
Better Than Robert Redford Cake Recipe
Layer 1
1-1/2 sticks butter (at room temperature)
1/2 cup chopped nuts (I used pecans)
1-1/2 cups flour
Mix ingredients and spread in 9 x 13 pan. Bake 30 min. at 350°
Layer 2
8 oz. cream cheese
1 cup powdered sugar
1 small carton Cool Whip
Mix layer 2 ingredients together. When layer 1 is cool, spread with Layer 2.
Layer 3
2 small packages instant chocolate pudding mix
3 cups whole milk
1 teaspoon vanilla
Mix layer 3 ingredients together and pour over Layer 2.
Cover all with whipped cream and nuts. (I used toasted almonds.)