---
Jump to Community Outreach for May
Jump to ARS Feature Article: Photographing Roses
Jump to Frank Brines' Rose Care FUNdamentals
Jump to Calendar of Events

---
Co-President's Message
by Frank Brines

Your hard work at Rose Haven is paying off—and getting noticed! The garden is looking great. The roses have been making a fabulous display for several weeks, and they were looking particularly grand Sunday April 27 when Rose Haven received a visit from 35 members of the Los Angeles Rose Society. Our garden was the final stop on their garden tour and Phyllis Bettelheim, Rebecca Weersing, and I were on hand to greet the club and show them around the garden.

LARS President Marcia Sanchez-Walsh sent a thank you card expressing how impressed they all are with Rose Haven and their appreciation for the guided tour. The credit goes to all of you for your efforts in the garden and/or your support of the compost campaign. The fun never ends: The hot weather over the past few weeks produced a spectacular wave of blooms and now there are generous opportunities for volunteers to deadhead so that the next bloom cycle can begin!

Speaking of spectacular, our 14th Annual Temecula Rose and Arts Festival (May 3-4) was well attended by a great crowd! I've received emails from near and far congratulating the club for a truly impressive show. Something that often impresses visitors from other societies is the unique nature of our rose show; I know of no other rose society that partners with community cultural organizations to showcase roses in a setting that combines music and the visual arts. We are fortunate that years ago members had the vision to create something so unique and special.

I am encouraged that judges and exhibitors from other rose societies came all the way out here to participate, but I'm particularly delighted that so many of our own members brought specimens and arrangements—you may not realize it, but that was a huge part of this show's success.

Special thanks go to:
* Betty Dixon, who provided lodging for some of the out-of-town judges.
* Ann Coakes, Sochie Rumbold, and May Olson for a fabulous judges' luncheon in Ann's lovely backyard.
* Fred and Terry Hawkins for the cornucopia of items on the raffle table (and to Ann for designing and assembling the gift baskets).
* Every member who worked on the show production—setting up, taking down, "running" the specimens and arrangements, and all the other important functions that went into it.
* And to all of you who exhibited!

If you did not get an opportunity to help with this year's Festival—guess what? It's time to volunteer to be on a committee for the 2009 Festival. (Like I said, the fun never ends!) Our goal is to have the theme, committee members and committee chairs identified by the end of June. Also, the festival chairs would appreciate your input, comments, and suggestions for how we can all make the 2009 event even better. Send e-mails to TemecularRoseFestival@live.com.

Thank you all for a fantastic show. It couldn't have happened without you. Never forget that the success of this organization—and its ability to spread the love and enjoyment of the rose—starts with you: its members. You're doing a great job!

PS: If you have any photos from Yumi's demonstration please contact me at Roseguy2000 @ aol . com! She would like whatever images you have. Thanks!
---
Co-President's Message
by Kathy Katz

Well, we have mowed and weeded and spread mulch and fertilized. Rose Haven is in full bloom and we can all be proud of ourselves as we have done our best. I personally hope to see the polliwogs in the pond become frogs before the water birds get them. Let's all take time to go out and enjoy the garden during this, our First Bloom of the year, on Saturday, May 17 between 9 a.m. and noon. Then we can take some time to visit the gardens on the Assistance League Garden Tour. Pick up a flyer at our May 15 meeting or visit their website at www.temeculavalley.assistanceleague.org.

On the last weekend in April the Garden Club had their first show at the CRC. It was well attended and lovely. We shared our youth project at the Pujol Street Boys and Girls Club with them. There were also many terrific youth entries from members and schools. It was very gratifying to see the event work out so well and the work with the kids continue.

Our own Rose & Arts Festival was well-received. Kathy Turgeon has spearheaded an heroic publicity campaign and we are grateful for her efforts. In fact, thank you everyone for all your hard work.

I am looking forward to seeing you all on Thursday as we visit some wonderful member gardens. We will gather together at Rose Haven at 10 a.m. Thank you, in advance, to Carol Hudson, Ann Coakes, May Olson and Frank Brines for opening their gardens to us for this special day.
---
New Members
by Bonnie Bell, Membership Chair
A warm welcome to our new members:
Cheryl Miller     Carol Landry
---
Community Outreach
by Simonne Arnould


The roses are blooming at Rose Haven so we will begin taking bouquets to some of the community offices in the Temecula and Murrieta areas. We need several people to pick and deliver the bouquets. The recipients are so grateful it is a very gratifying experience. Please contact me at 951-677-4272 if you would like to participate as a "Blooming Angel" volunteer. In the past we have taken flowers to the Temecula Library, Chamber of Commerce, City offices, and Temecula Community Theater, but other venues are available.



---
Birthdays This Month
by Florence Blacharski - Sunshine Committee
---
Member Meeting Program
Date: Thursday, May 15
Time: 10:00 a.m. to 1:00 p.m.
Place: Rose Haven Garden
Topic: Member's Garden Tour
 No regular meeting will held on May 15. Four members have opened their beautiful gardens for you to visit. Rose Haven will be the first stop, where at 10:00 a.m. you will all receive maps to the various gardens. You will be visiting the gardens of Carol Hudson, Ann Coakes, May Olsen, and Frank Brines. The garden of Frank Brines will be the last one on the tour, and a luncheon will be served there.

---
Little Rose Show Competition
Co-Chairs: Frank Brines and Rebecca Weersing

At the monthly meetings from April through November 2008 we will conduct six Little Rose Shows. These will be fun opportunities to learn and polish your skills in exhibiting roses. Each month, you will receive points for any specimen that is awarded first, second, or third place. In addition, you will receive a prize if your rose is judged Rose of the Day. And at the Holiday Meeting, a grand prize will be awarded to the exhibitor who accumulated the highest number of points during all the preceding Little Rose Shows.

Rose shows are organized into "classes." We will be using these six classes:
Class 1: One hybrid tea or grandiflora shown without side buds.
Class 2: One floribunda without side buds.
Class 3: One miniature without side buds.
Class 4: One floribunda spray.
Class 5: One miniature spray.
Class 6: One stem of any other type or unknown.


Points will be given to the best rose in each class, based on ARS guidelines:
First Place: 5 points.
Second Place: 3 points.
Third Place: 1 point.
The first place winners in each section will be judged against each other to determine the Rose of the Day. That entry will be awarded an additional 3 points and displayed separately.

Here are the rules that we will follow:
All roses must be properly named and entered in the appropriate section. (Don't worry, Rebecca and Frank will do their best to help you identify your nameless varieties!)
Exhibitors must supply their own containers. (You already have these. 12 oz beverage bottles are ideal for large roses; 4-6oz beverage containers work well for miniature roses.)
Each exhibitor is limited to six entries per show. You may concentrate your entries in one section or distribute them over all the sections.
The club will supply entry tags; only the top section needs to be filled out. (We'll show you how.)
Your specimens will be judged based on the ARS guidelines. (This is a great opportunity to learn by doing!)
Exhibitors are asked to remove all specimens at the end of the meeting.
---
Rose Show Praise
by Bonnie Bell

Congratulations to one and all who participated in our Rose & Arts Festival this year. What a spectacular event it was. With a theme of "Pacific Serenade", from the moment you walked through the doors of the CRC one could feel the tropical breeze and lushness of the roses enveloping them. We were so pleased to present the art, entertainment, and of course, the roses and stunning arrangements to the public, and they were so generous with their praise. Everyone from young to old was admiring every aspect of the show.

Thank you, everybody, from the set-up to displays, artists, seminar speakers, judges, greeters, and especially the show committee for all their efforts in planning and bringing together such an outstanding show.

There were many enthusiastic first-time exhibitors who won ribbons, and they were elated. It is so refreshing that among our members, and guests too, we were cheering for each other to win.

A selection of pictures of the show are on our website now at www.temeculavalleyrosesociety.org/index.shtml and a complete list of winners will be published in the June Newsletter. Here are a couple of early release photos.



---
Rose Haven Update
by Bonnie Bell


There was a profusion of activity going on at Rose Haven in April. We thank each and every one of our members who came out and spread tons and tons of mulch and chopped and pulled weeds. The garden looks so nice and neat, and the blooms are spectacular. Thanks, Frank, for challenging us in this endeavor. Additionally, a local Eagle Scout planned, built and installed five benches in the garden with his group of young men. Not only does this complement the garden, the benches were placed to enjoy views while resting and relaxing. Thank you so very much.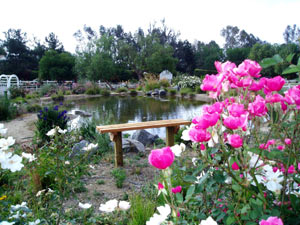 On May 15th, our member meeting, which is a garden tour, will begin at Rose Haven, then proceed to several of our member's gardens. This will be a great opportunity to check out Rose Haven and perhaps add your thoughts to creating a better garden. Also, please plan to join us for the "First Bloom" party Saturday, May 17th, from 9 to noon. The address is 30592 Jedediah Smith Road, Temecula 92592.
Wednesday and Saturday mornings are the member volunteer days. Please contact Bonnie or Phyllis if you would like to offer your services. We are currently working on spreading mulch around the gazebo, and Phyllis has ordered free bark for the picnic area, scheduled to arrive mid-May.