---
Jump to Community Outreach for February
Jump to Rose Care FUNdamentals
Jump to Calendar

---
Co-President's Message
by Frank Brines
  When I joined TVRS five years ago I never imagined that I would ever serve on the board, let alone as co-president. However, when I heard about the plan to purchase and develop the 3.4 acre plot where the Society was already nurturing hundreds of roses, I wanted to participate in designing the future Rose Haven. Little did I know what I had committed to! It was a lot of work, and it has led to other projects, but the experience has been very enlightening, empowering, and rewarding.

In 2008 there will be many new opportunities for members to get involved, and I encourage you to grasp any opportunity that you might find interesting. You'll more than likely enjoy great rewards in the activity, and find a deeper camaraderie and plenty of congenial fun. TVRS is an exciting organization, with dreams of expanding our gifts to the community. Please don't hesitate to get even more involved!
---
Co-President's Message
by Kathy Katz
  What a great January meeting Sochie Rumbold arranged. It was exciting to have such a terrific speaker and so many people there. It was good to see all of you. My name skills are so poor; it made me realize I am going to have to hustle to get to know everyone. I love those kinds of challenges. Please, make sure I have an opportunity to learn your name and face. I'm just a little slow.

We are going to make a hospitality committee, and Jean Block has agreed to head it. We need a couple of volunteers to help make that job easier and more fun. I have certainly enjoyed myself in that role, and everyone is so helpful.

Youth Gardening remains my foremost interest. With horses and 5 acres I spend most of my time in the natural world and feel hemmed in when I'm not. It is always worth repeating that there are many children in our community who have never dug in the dirt or grown anything. It is always amazing to remember the first time you really read a book, or grew a plant, or nurtured a rose. It is even more amazing to watch a small human experiencing those treasures. With Rose Haven and our Shows we are able to reach out. With our Youth Gardening Committee we help pass it on.
---
Compost Campaign Challenge!
  Spring will soon be here. Pruning will be over and the garden will be anxiously awaiting a finishing dressing of composted mulch. Compost discourages weeds, adds nutrients, and mantains more favorable soil temperature and moisture. This benefits the all-important feeder roots and fosters diverse soil "wildlife" such as earth worms and beneficial fungi, improving the quality of the soil over the long haul.

However, we're still a little short on meeting our Compost Campaign Challenge! Remember, I'll personally match up to $300 in donations from the club's membership. Don't let me leave money on the table!

Still need convincing? Consider the fact that this challenge will NOT meet all of Rose Haven's needs. One cubic yard of compost applied to the minimum recommended depth of 3" will provide the above elements for a dozen rose bushes. Forty cubic yards will take care of only 480 bushes—only about 20% of our roses!

And this year compost will be more important than ever: Our Southern California water agencies have announced that they are cutting our supply this summer by 30% and you can be sure that they will charge higher rates for water. TVRS will pay for this one way or another: It can be through compost, higher water costs, and/or dead rose bushes.

So give a donation for yourself or in someone's honor for Valentine's Day, a birthday, anniversary, or other special occasion. Then, when you visit Rose Haven throughout the year, you can appreciate the beauty that your generosity made possible.
---
Community Outreach
by Simonne Arnould
 I would like to inform the Rose Society members about the showing of paintings and photography being displayed by local artists at the "Rotunda" of the Grace Mellman Library. There is a changing display each month where local artists exhibit their work and talent. As you may know from attending our annual Rose Festival, we fully support the Art League and creative works from local artists which are a distinctive feature of our show.

This month, Pauline Bowron's work will be on display at the library. She is a well-known artist in the Inland Empire and is also known for her photography. Pauline was born in England and her interest in photography was kindled when she lived in Paris. In 1975 she took up residency in California where she continued to pursue her career in photography. Her photographs will be on display February 2nd thru the 29th.

Any questions, please call Simonne Arnould, Art Display Chairperson, at 951-677-4272. The art works are on display at the "old" Temecula library.
 Grace Mellman Library
 41000 County Center Drive
 Temecula, CA 92591
---
Member Meeting Program
Date: Thursday, February 21
Time: 10:15 a.m.
Place: Temecula Library (Pauba Road) Subject: Frank Brines will discuss how to propagate roses from cuttings.

Frank's mini-biography:
 "Growing up as a farmer's son, I helped tend the fields, vegetable gardens, and flower gardens. My entire extended family fostered my early interest in horticulture. This interest became a life-long love of learning about and growing plants, and especially roses, which became one of my greatest interests—at times even an obsession."

"My experience in growing, caring for, propagating, and learning about roses has now spanned many decades and four distinct climate zones. I have received many awards in rose exhibitions, for specimens and arrangements. I am a Certified American Rose Society Consulting Rosarian, member of two ARS-sanctioned rose societies, including the Temecula Valley Rose Society for whom I served as VP, board member, and now co-president."



---
Birthdays This Month
by Florence Blacharski - Sunshine Committee
Robert Black
Judy Downing
Fred Hawkins
Art Meza
Denise Vaccaro
San Vaccaro
---
Renew Your Membership
by Bonnie Bell, Membership Chair
 Memberships for 2008 must be renewed by the end of February.
Dues are: Individual $20, Family $30.


Please bring your payment to our February 21st Member Meeting or mail to: TVRS, PO Box 890367, Temecula, CA 92589. The 2008 Roster and Membership Cards will be available at our March meeting to all who have renewed.
---
New Members
by Bonnie Bell, Membership Chair
 A warm welcome to our new members:
Charlie and Jane Brodbeck
Carol Hudson
Susan Kupp
Saundra Felker

---
Rose Haven Update
 What a great success our Rose Pruning Workshop was in January. Many people in the community as well as members showed up to learn the nuances of pruning from Frank Brines, Consulting Rosarian. The beginners were eager and tackled the shrubs with gusto thankful for the instructions received. Several returned the following Saturday for more inspiration.

We are delighted a group of Master Gardeners of Riverside has chosen Rose Haven to further their community service training. Not only are they helping us out a great deal and honing their skills with the roses, we can also learn from them as the garden now contains so many different types of plants.

And did you hear about the Wells Fargo bankers who came to the garden enmass with our own Ann Coakes leading the pruning brigade? They were so enthusiastic, did a great job, and then cleaned up every scrap of cuttings off the ground. We really appreciate their help. Wells Fargo has been a super sponsor of our Rose Festival for many, many years. Thank you so very much.

The rest of February will be spent finishing the pruning, so we invite our members to come out and prune a few roses anytime, but we encourage Wednesday and Saturday mornings so we can prune together. Also, on the third Saturday of the month (the 16th) there will be a special program from 9 to noon. Look for more details in the Rose Haven Workshop article.

The street address is 30592 Jedediah Smith Road, Temecula 92592. Please refer to our website for a map and photos, or pick up a map at our member meeting.



---


Frank Brines giving a demonstration in rose pruning.


---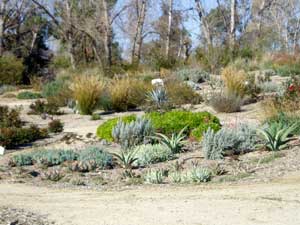 Rose Haven — Succulents